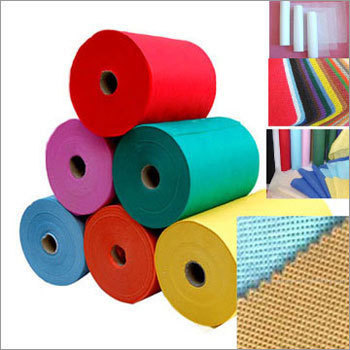 PP Spunbond Nonwoven Fabric
Price And Quantity
Product Specifications
Product Description
MATERIAL SAFETY DATA SHEET (MSDS)
1. IDENTIFICATION OF THE SUBSTANCE / PREPARATION AND COMPANY UNDERTAKING
Product Name: PP Spunbond Nonwoven Fabric
Product Information: 100 % Polypropylene Fiber grade raw material blend with different types of additive Master Batches. Out of the silo the polymer is vacuumed to dosing station on top of the extruder. Inside the extruder it becomes melted and homogenised. Passing a filter system and a spin pump, the melt is distributed by a coat hanger die, feeding the spinneret which forms a curtain of filaments. The filaments are cooled by means of a stream of air in a blowing area, drawn by aerodynamic forces and then transported to the downstream discharge channel. Here the filaments are swirled around and then deposited on the wire mesh belt as a random nonwoven material. This is transferred to the heat bonding calender which by heat and pressure sets the physical properties as tensile and elongation of the final product. After calendering the material is cooled by a water-cooled pair of rolls and then wound up.
2. COMPOSITION / INFORMATION ON INGREDIENTS
Chemical Name: Polypropylene Spunbond Nonwoven Fabric.
Product Code: PPSBNWF
Hazardous Ingredients / Components: Not Applicable
CAS No.
Other Components: Risk Phrases & Symbol
For e.g.: Xi = Irritant, R36 = Irritating to eyes, R37 = Irritating to respiratory system, R38 = Irritating to skin
3. HAZARDS IDENTIFICATION
Health: Inhalation: - N/A
Skin Contact N/A
Eye Contact N/A
Ingestion N/A
Fire: Effect to body skin
4. FIRST – AID MEASURES
Inhalation: Wash with cold water and consult to Physician.
Skin Contact: Wash with cold water and consult to Physician.
Eye Contact: Wash with cold water and consult to Physician.
Ingestion: Wash with cold water and consult to Physician.
5. FIRE FIGHTING MEASURES
Extinguishing media: Dry Powder
Fire Fighting Protective Equipment: Hand Gloves, Spectacles, Helmet, Safety shoes, Apron
Specific Hazards: N/A
6. ACCIDENTAL RELEASE MEASURES
Personal precautions: N/A
Environmental precautions: N/A
Method for cleaning up: N/A
7. HANDLING AND STORAGE
Handling: Manual or with the help of machine
Storage: Keep in Dry place
8. EXPOSURE CONTROL / PERSONAL PROTECTION
Engineering measures: N/A
Respirators
Eye Protection
Personal protective equipment:
Gloves
Safety glasses
Occupational Exposure Limits – Hazardous Ingredients
9. PHYSICAL AND CHEMICAL PROPERTIES
Appearance: Roll Goods
Form: Solid
Colour: As per customer requirement
Odour: NIL
PH (Value): N/A
Boiling Point: N/A
Melting Point: 165 Degree centigrade
Flash Point: N/A
Flammable Limits:
Auto Ignition Temperature: 300 degree centigrade
Explosive Properties:
Oxidising Properties:
Vapour Pressure (mm Hg):
Density (g/ml): 0.90 cc
Solubility (Water): Not
Solubility (Other): Alcohol
Partition Coefficient:
10. STABILITY AND REACTIVITY
Hazardous Reactions: N/A
Hazardous Decomposition Product(s):
Conditions to avoid: Keep Away From direct sun exposure.
Materials to avoid: Sharp knife, sharp rod etc
11. TOXICOLOGY INFORMATION
Inhalation (LC50): N/A
Skin Contact (Dermal – LD50): N/A
Eye Contact: N/A
Ingestion (Oral – LD50) N/A
12. ECOLOGICAL INFORMATION
Environmental Hazards: N/A
Persistence and Degradation: After few months in exposure of sun light
turns in to powder form
Toxicity: N/A
Effect on Effluent Treatment: N/A
13. DISPOSAL CONSIDERATIONS
Product & contaminated packaging: N/A
14. TRANSPORT INFORMATION
IATA:
ADR:
IMO:
UN NO.:
15. REGULATORY INFORMATION
Classification and labeling Danger symbol: N/A
Danger Label:
Safety phrases:
16. OTHER INFORMATION:-
Applications:
Hygiene
Industrial Application
Dust Collectors
Filtration
Physical Properties:
High Air Permeability
Thermo bonded No chemical
Excellent bi-directional and wear properties
Soft and Comfortable
Grammage between 10-150 g/m2
Possible Additional Nonwoven Features:
By using Additives or pigment pastes:
Hydrophilic – Absorbency Properties
Fire retardant properties
Antistatic properties
Increased UV and Gamma ray protection
Trade Information
Yes

Contact us for information regarding our sample policy
PE Film Packing as per standard.

All India